Jim Untershine, GZS of LB, 09-29-02
President Bush may be asking Americans to bite off more than they can chew. Mentoring a child that belongs to someone else can claim 25% of your take home pay in California and as much as 31% in Massachusetts.
California may ask the president to award the Congressional Medal of Honor to Kirk Kerkorian for paying $50,316 per month to mentor a 4 year old child named Kira. Bert Riddick, John Ruff, and Damon Adams should also be awarded for mentoring a child that belongs to someone else, even though they are forced to do so by the California court.
California not only provokes adulterous relationships with their brand of "No Fault" divorce, it rewards the lion's share of the child support award to the illegitimate child. A multiple child support award allocates 25% of the NCP's income to support the youngest child, 15% for the next oldest, 10% for the next oldest, etc. Since there is no accountability of the money paid to support the children, this windfall is realized by the lying unfaithful adulteress who betrayed her solemn oath of marriage in an attempt to bite the hand that feeds her, while withholding the identity of her child's biological father in her sinister cover-up for profit.
Religions that sanctify marriage may soon become aware of those outside forces that are coming to bear on their followers. Rogue states who have implemented a family law system that leads parents into temptation in an attempt to reap a false profit may spark a religious movement. Flying in the face of God is not allowed in a country that separates church and state.
The Governor of California has identified a reduction of federal funding as the overriding reason to allow paternity fraud to continue. Although Governor Davis was quoted as saying the reduction of funding would result due to a drop in child support collections, he may have been more concerned with a drop in paternity establishment percentage.
California reported 123% paternity establishment to the Federal Government in 1998. The chart shown below shows that after the federal government instituted the Clinton welfare reform of 1996, California has reported more paternity establishments than the number of out-of-wedlock births in their state. This has resulted in extra paternity establishments of 14,111 in 1996, 28,255 in 1997, and 39,711 in 1998. Paternity establishment percentages above 90% brings in federal incentive bonuses while paternity establishments over 100% should bring in Federal authorities to conduct an audit and bring a new meaning to paternity fraud.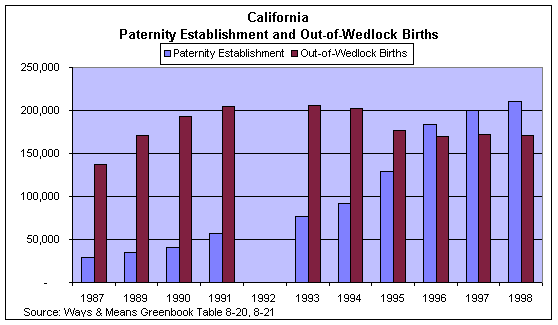 Jim Untershine, 824 E Pass Rd #3, Gulfport, MS 39507, gzs@gndzerosrv.com, www.gndzerosrv.com
---
Jim Untershine holds a BSEE from Mississippi State University and has 13 years experience in feedback control system design. Mr. Untershine is currently using the teachings of Werner Heisenberg and Henry David Thoreau to expose Family Law in California as the exploitation of children for money and the indentured servitude of heterosexual taxpayers who dare to raise children in this country.
---
By Jasmine Lee, DAILY BREEZE
Despite a last-minute lobbying effort by South Bay and statewide supporters, Gov. Gray Davis on Friday vetoed a bill that would have allowed some men to dispute paternity with a DNA test after they are ordered to pay child support.
Davis acknowledged that something should be done to curb the growing problem of paternity fraud, but he said Assembly Bill 2240 would only delay the legal process of collecting child support payments and provide a loophole for biological fathers trying to shirk parental responsibilities.
Davis also said if the bill became law, the state might not meet federal requirements on collecting child support payments, putting California at risk of losing $40 million in federal funds.
"I recognize that paternity fraud is a serious issue and has the potential of damaging an individual's livelihood," Davis wrote in a veto message. "However, AB 2240 is flawed in its attempt to address the issue."
Carson resident Bert Riddick, a paternity fraud victim profiled in a Daily Breeze article in July, said Davis was missing the big picture. He called the governor's claims about losing money "smoke and mirrors."
Riddick protested that truth — not federal funds — is what's at stake. He said the system lies to children about paternity and allows mothers to falsely name men as fathers. "What message are we sending to our children?" he asked.
Even though a DNA test excluded him as a biological father, Riddick pays $1,400 a month to support the daughter of an ex-girlfriend. Because a court summons was not properly served, he missed his day in court and a default judgment was entered against him.
AB 2240 could have allowed Riddick to use the DNA evidence to dispute the paternity claim.
Riddick had organized a grass-roots, call-in campaign to urge Davis to sign the bill and remained optimistic until he learned of the veto Friday afternoon. For years, Riddick worked along and with such groups as the American Coalition for Fathers & Children and the California chapter of Citizens Against Paternity Fraud, to get the bill before the governor.
Assemblyman Rod Wright, D-Los Angeles, author of AB 2240, also sent a letter urging Davis to sign the bill. Cine Ivery, the district director for Wright's Los Angeles office, said the assemblyman is disappointed, but he did not immediately have a comment.
Opponents of the bill called the veto a victory for children.
"We agree there are paternity fraud issues and that the system is not working 100 percent," said Lupe Alonzo-Diaz, senior policy advocate for the San Diego-based Children's Advocacy Institute. "But we're glad that the governor put children first."
The National Organization for Women and the Oakland-based National Center for Youth Law also spoke against AB 2240.
Wright's bill would have required process servers to personally hand a court summons to men named in civil cases for child support. Servers now can mail or leave a summons at a last known residential or business address. Also, men who had already been ordered to pay child support through a default judgment — which means they did not appear in court to dispute paternity charges — would have been able to challenge paternity with a DNA test.
In his veto message, Davis directed the state Department of Child Support Services to work with the Legislature and lobbyists on both sides of the issue to find ways to address paternity fraud.
Alonzo-Diaz said she can see flaws in a system that forces men to pay for children who are not theirs. More than 70 percent of Los Angeles County men who pay child support were ordered to do so by default judgment.
However, the Children's Advocacy Institute was concerned about AB 2240 because it did not provide money for the child's food, school supplies and other needs while proof of paternity was pending. Alonzo-Diaz also pointed out that a man could claim he is not a biological parent, and then a test could conclude he is the father.
Also, parenthood is more than just DNA, she said.
"Biology is not the one factor that makes a father," Alonzo-Diaz said.
Riddick, married with an 11-year-old son and daughters ages 6 and 3, wondered who would advocate for his children.
"I wish (Davis) would come to my house and tell my son why he can't sign this bill," he said.
He challenged Davis to explain to his son, Azriel, why Riddick must pay for another child at the expense of his own children.
But, he said, the fight is not over. Riddick said he will continue to lobby to reform paternity fraud and has even considered running for the state Legislature.
"I'm not going anywhere," he said. "It's not over."
Publish Date:September 28, 2002
---
Kerkorian Ex-Wife Gets Little More
Sat Sep 14,12:16 AM ET
By GARY GENTILE, AP Business Writer
LOS ANGELES (AP) - Billionaire Kirk Kerkorian's ex-wife was awarded an additional $316 a month in child support Friday, a pittance compared to the $270,000-a-month increase she had sought.
The 84-year-old studio mogul had already agreed to pay $50,000 a month to support 4-year-old Kira. But her mother, Lisa Bonder Kerkorian, argued the girl needed $320,000 a month to continue living her ex-husband's lifestyle of private jet flights, expensive hotel accommodations and lavish parties.
Judge Lee Edmon called the estimates "incredible" and a "disguised form of spousal support."
The 37-year-old ex-wife said she would appeal. She said the judge "severely underestimated" the cost it takes to maintain her daughter in a lifestyle Kerkorian created for her.
Dennis Wasser, a lawyer representing Kerkorian, said he was pleased "that the judge, instead of accepting the fantasy world presented by Lisa Kerkorian, followed the law and the facts and ruled on the basis of common sense."
Edmon said Kira "is entitled to live a luxurious lifestyle" but is not entitled to private jet travel. Other items the judge threw out as "grossly exceeding the reasonable needs of the child" included $300,000 for six parties per year and $6,000 per month for house flowers.
The judge did award Bonder Kerkorian $2,400 per month for Kira's equestrian activities and $1,400 per month for French lessons, ballet lessons and other extracurricular activities.
Kerkorian and Bonder Kerkorian, a former tennis pro, had a 10-year romantic relationship but were married for only a month, in 1999.
Although her attorneys originally claimed Kerkorian was Kira's natural father, Bonder Kerkorian recently admitted she faked the DNA paternity test by using saliva she obtained from Kerkorian's adult daughter.
Kerkorian has said he is willing to support the child even though he is not the biological father.
Kerkorian is worth an estimated $4.5 billion according to the most recent Forbes magazine list, released Friday.
He is the majority shareholder in the Metro-Goldwyn-Mayer movie studio and MGM Mirage Inc., which owns several Las Vegas Strip hotels.
---
Not the dad? Pay anyway
Men fight state laws that don't distinguish
September 16, 2002
BY WENDY WENDLAND-BOWYER, FREE PRESS STAFF WRITER
Each week, $63 from John Ruff's paycheck goes toward child support for a daughter he didn't father, being raised by an ex-girlfriend he no longer sees.
Ruff said years ago, when his ex-girlfriend told him she was pregnant with his child, he believed her. He signed paternity papers, started paying child support and regularly saw the child.
But when Ruff heard rumors the child was not his, he got a DNA test. The result: He wasn't the dad.
Ruff presented this proof to an Oakland County judge. He thought it was enough to stop child support payments and to be removed from legal documents.
He was wrong.
"I hate to say it, but the whole part where I went wrong was the part where I tried to stand up and be a man and take responsibility for what I thought was my daughter," said Ruff, 29, who had lived in Ortonville. He has since married and moved to Grand Rapids.
"I should have been a jerk and tried to protest what she was saying."
Just as DNA has freed inmates imprisoned for crimes they did not commit, it should also free men from financial support for children they did not father, Ruff and others say.
In Michigan and many other states, legislators are considering laws to do just that.
Last year, the state House passed a package of bills that would permit people to get out of paying child support when a child is not biologically theirs. The bills also permit the cancellation of child support arrearages in such cases and penalize mothers who fraudulently say a man fathered their baby.
The bills sat in the state Senate Committee on Families, Mental Health and Human Services since then because of mostly legal concerns, said Amy Zaagman, chief of staff for committee Chairwoman Sen. Beverly Hammerstrom, R-Temperance.
Zaagman said her boss is not against the concept of the bills but has several legal concerns. For instance, when a man who is not married signs paternity papers, he waives his right to a DNA test. If the man has any doubts, he should raise them then, not years later, Zaagman said.
Also, one bill allows the man to stop paying child support but keep parenting time with the child.
"Where is the best interest of the children in all this?" said Zaagman. "Here's someone who had a relationship with the child, established some responsibility for the child . . . yet now he doesn't want to be responsible anymore but wants parenting time? How does that benefit the child?"
Dr. Damon Adams, a dentist from Traverse City, is leading the push for the bills. Adams said the bills are in children's best interest because kids have a right to the truth and should know their medical history.
"When something like this happens, the best way to heal is for the truth to come out," he said.
Adams knows firsthand about the problem. Shortly after his marriage of 25 years ended, he discovered he did not beget his fourth child, who was 8 at the time.
"It was the worst feeling I've ever had to go through in my life," Adams said. "It felt like a death."
Adams, too, presented the DNA evidence in his case to a judge but was told he had to continue paying child support. He said he pays more than $18,000 a year.
Society outgrew system
The current legal system is based on 500 years of common law that gave children born within a marriage the right to claim the man in the marriage as their father, said Christi Goodman, program manager for the National Conference of State Legislatures.
But as society changed, and it became more common for children to be born outside of marriage, the laws were adjusted. More effort was made by the government to establish paternity and get single men to take responsibility for their children.
DNA testing didn't become accurate until about five to eight years ago, Goodman said. Then, men who suspected a child was not theirs suddenly had a way to prove it.
Now, many of these men are finding out that DNA evidence may not be enough. So they're demanding that laws be changed, Goodman said.
"It is causing a public stir," she said.
In Michigan, one of the groups to oppose the bills is the Family Law Section of the State Bar of Michigan.
Chairwoman Meri Anne Stowe said she can sympathize with men who are married and later discover a child is not biologically theirs. But Stowe said she is even more concerned about the children in these cases, who know only that man as "Dad."
"We don't want to illegitimize a whole class of children, and we don't want to impoverish a whole class of children," Stowe said. "We have to look at the greater good."
In Ruff's case, the girl he was told is his daughter was 4 when he had the DNA test done. Ruff told Oakland County Judge John McDonald that he had been deceived by his ex-girlfriend, presented the DNA evidence and said he only signed the paternity papers because he thought the girl was his.
But court records show McDonald didn't believe him. Rather, he believed the ex-girlfriend who told him that Ruff knew all along the child wasn't his but told her he wanted to raise the girl as his own.
Ruff said he hasn't seen the girl, who is now 8, since 1998. Ruff said he has paid $26,000 in child support. He said he would like to start a family with his wife but fears he can't afford it.
"I've done everything I could do to get this decision reversed," Ruff said. "But I'm not about to give up."
Contact WENDY WENDLAND-BOWYER at 313-223-4792 or wendland@freepress.com.
---
HOW TO BE HEARD
Four bills that relate to paternity fraud will come up for testimony before a state Senate committee later this month. They are House bills 4635, 4636, 4637 and 4638.
The proposed legislation would permit men who have scientific proof they are not the father to stop paying child support and get out of paying past-due child support orders. The bills would also make it a crime to misidentify someone as a father, among other things.
All bills passed the House last year. For more information on the bills, visit www.michiganlegislature.org.
A public hearing on the bills before the Senate Committee on Families, Mental Health and Human Services is set for 3 p.m. Sept. 25 in Room 100 of the Farnum Building in Lansing.
To learn more about the hearing or about how to send written comments, call committee Chairwoman Sen. Beverly Hammerstrom's office, at 517-373-3543 between 9 a.m. and 5 p.m. weekdays.